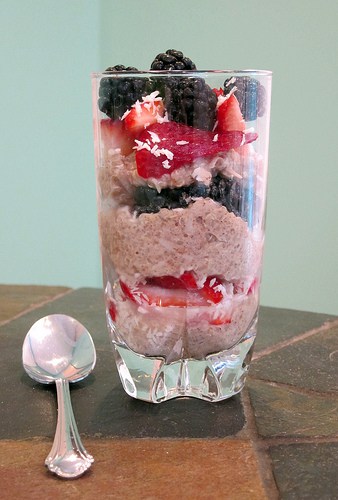 I like to mix things up for breakfast. I am always on the hunt for healthful and different ideas that often leave J asking, "What exactly IS this?". Barley, oatmeal, quinoa, it is all fair game on our breakfast table in savory and sweet variations.  This only takes a bit more effort than standard oatmeal, and I think it looks so pretty dressed up with early summer berries. The pudding can easily be made the night before and the parfaits assembled in the morning. Of course, it could also be served for dessert. I think it is best at room temperature or slightly warmed.
Coconut Quinoa Pudding
Adapted from the Quinoa Pudding from Whole Living
3/4 cup rinsed quinoa
4 cups coconut milk (I used an already blended coconut milk as opposed to the canned variety)
1/4 cup honey
3/4 cup shredded sweetened coconut
1 tsp vanilla bean paste or vanilla extract
1 tsp cinnamon
3 whole cardamon pods
1/4 tsp salt
2 eggs
1 tsp cornstarch
For the parfaits:
2 tbsp dried unsweetened coconut, 1 1/2 cups mixed berries, additional cinnamon if desired
Bring the quinoa and 3 cups of coconut milk and cardamom pods to a boil, simmer stirring often for about 15 minutes. Add vanilla and cinnamon. In a separate bowl combine, eggs, cornstarch, honey, salt and cup of coconut milk. Combine until the mixture is well mixed with no lumps and stir very slowly into the pot over low heat. As the mixture thickens add the shredded coconut and remove the cardamom pods.  When the pudding has thickened remove from the heat and allow to cool to room temperature before serving.
For the parfaits: Using a tall glass layer 1/4 cup of pudding topped with dried unsweetened coconut, cinnamon and berries, ending with the berries on top. Serve immediately.