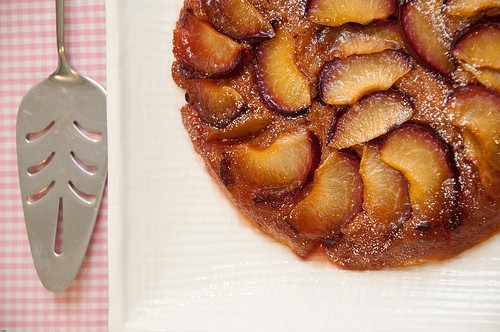 When I saw Ina Garten on Barefoot Contessa pour molten hot sugar syrup over bubbling plums for this cake, I knew I was going to have to make it.  Keeping a vigilant watch on my candy thermometer while a pot of sugar syrup boils always makes me feel a little like a mad scientist.  I think it helps that I almost always bake late at night.  I did make some changes to the recipe as this is a more sugar heavy dessert that I usually make.  I imagine this would be really good with the traditional apple base.  I used the most tart plums I could find to balance the sweetness of the caramelized sugar.  This cake is best served warm, and a scoop of vanilla ice cream or whipped cream doesn't hurt.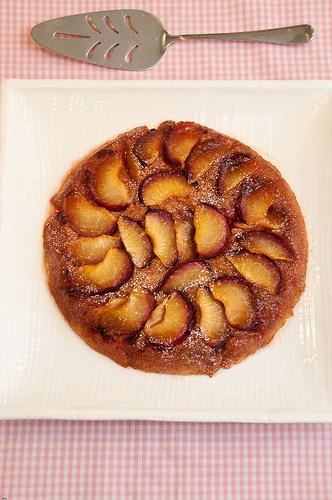 Plum Cake "Tatin"
Adapted from Barefoot in Paris by Ina Garten
Ingredients
6 tbsp unsalted butter, at room temperature, plus extra for greasing the dish
3 plums sliced into ½ inch slices
1 ½ cups granulated sugar, divided
2 extra-large eggs, at room temperature
1/3 cup reduced fat sour cream
1/2 tsp grated lemon zest
1 tsp vanilla extract
1 cup plus 2 tbsp all-purpose flour
1/2 tsp baking powder
1/2 tsp kosher salt
Preheat the oven to 350 degrees F. Butter a 9-inch glass pie dish and arrange the slices of plums in a circle covering the whole bottom of the dish
Combine 1 cup of the granulated sugar and 1/3 cup water in a small saucepan and cook over high heat until it turns a warm amber color, about 360 degrees F on a candy thermometer. Swirl the pan but don't stir. Pour evenly over the plums.
Cream the 6 tablespoons of butter and the remaining 1/2 cup of granulated sugar in the bowl of an electric mixer fitted with the paddle attachment, until light and fluffy. Lower the speed and beat in the eggs one at a time. Add the sour cream, zest, and vanilla and mix until combined. Sift together the flour, baking powder, and salt and, with the mixer on low speed, add it to the butter mixture. Mix only until combined.
Pour the cake batter evenly over the plums and bake for 30 to 40 minutes, until a cake tester comes out clean. Cool for 15 minutes, then invert the cake onto a flat plate. If a plum sticks, ease it out and replace it in the design on top of the cake. Serve warm.