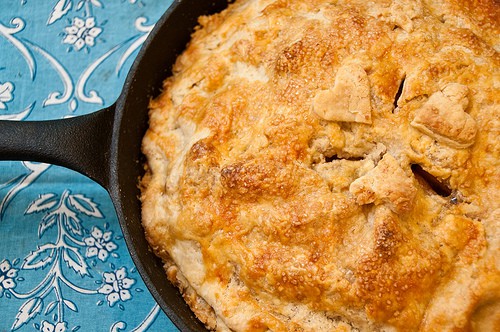 I recently saw a pie baked in a cast iron skillet at the King Arthur Flour Blog.  This sounded like a pretty fantastic idea and I vowed to try it.  The cast iron helped the base layer of the pie bake evenly and warded off any sogginess.  It also looked pretty cool and rustic.  I felt like the edges on this would be pretty likely to burn because this pie bakes at a high temperature.   I just tucked the edges of the top crust under to seal it.  The fresh local peaches that I had ranged from pretty good to lackluster in flavor.  I decided to give them a boost with some fresh ginger and brown sugar.  This pie really needs to sit for a while for the juices to cool before you slice it.  It is best served with vanilla ice cream of course.
Ginger Peach Pie
Ingredients
Pate Brisse divided into 2 crusts ( I replaced 2 tbsp of the butter with shortening because of the high temperature this bakes at)
6-8 peaches peeled and sliced
1 tbsp all purpose flour
1 tsp grated fresh ginger
1/4 cup brown sugar (you may need more if the peaches are especially tart)
1/8 tsp cinnamon
1 tbsp lemon juice
1 egg, beaten lightly with a tbsp of water for egg wash
Preheat the oven to 425
Roll one half of the dough to fit the pan.  Mix the peaches with the spices, lemon juice and flour and place in the pan.  Roll the other dough to fit the top and seal the sides. Cut steam holes in the top of the pie and brush with  egg wash and top with a sprinkle of sugar.
Bake for 15 minutes at 425 and lower to 350 and bake for about 50 minutes covering the outside crust if necessary.   Allow the pie to cool for several hours at room temperature.