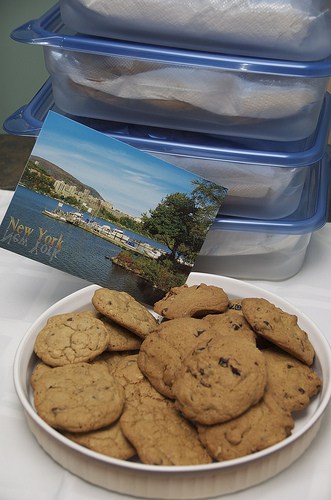 I participated in the second round of Operation Baking GALS sending cookies and baked goods to the troops. I heard about this through the Daring Bakers boards, and it seemed like a good reason to bake a bunch of cookies. Dorie Greenspan recently did a post about the group that you can read here. The cookies that I baked went to LT Eric Olsen, who is stationed on the USS Lincoln. You can click here to see the other bakers on Team Steph Chows that sent cookies to LT Olsen and his crewmates. I tried to use recipes that would hold up well while the cookies were being shipped.
I baked this recipe for Chocolate Cookies featured on RecipeGirl.com. I didn't grind the oatmeal and it was definitely noticeable in the cookies. They were still good but next time I would probably go ahead and break out the food processor. I am hoping that the lemon juice in these will act as a kind of preservative.
I also baked Tyler Florence's recipe for Chocolate Chip Cookies but instead of chocolate chips, I added dried cranberries and pecans. I love this cookie recipe, and I though it came out even better with the cranberries and nuts. I will definitely make these again, and I know from experience that they will last a really long time if stored in an airtight container.
If you are interested in participating in Operation Baking GALS Round 3, check out the blog located here.