I really wanted to bake a cake over the weekend. J tried his best to talk me out making something citrusy in favor of chocolate.  The truth is this: I have kind of lost my taste for chocolate cake. I guess I should be happy about that. I really wanted to use two oranges that I had on hand. I have made this recipe for Ina Garten's Lemon Yogurt Cake several times before usually in a loaf pan with the lemon glaze. It is reliably good even with switching out the flour to mostly white whole wheat and using fat free yogurt. I reduced the sugar from the original recipe as well to about 2/3 of a cup. For this cake, I also added a teaspoon of poppy seeds for a bit of texture. This recipe is really about as healthy as a cake can get. So, I decide to serve it with a dollop of whipped cream flecked with orange zest and vanilla bean seeds to make it more of a treat. I think I actually liked this better than the lemon version, and I will definitely make it again. Even my skeptical brother really liked it. Next time, I will probably use a tube pan and fill the center with the whipped cream.  I think this cake looks really cheerful on this hummingbird platter my mother-in-law bought me…perfect for the middle of winter.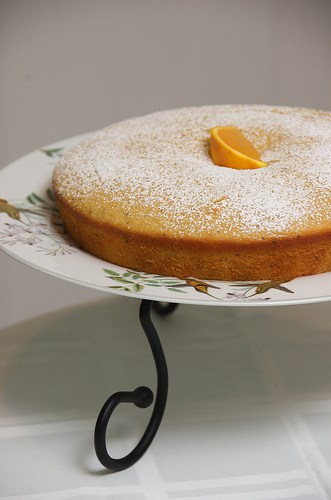 Orange Yogurt Cake with Orange Cream (Adapted from Barefoot Contessa's Lemon Yogurt Cake)
Ingredients
1 cup white whole wheat flour
½ all purpose flour
2 teaspoons baking powder
1/2 teaspoon kosher salt
1 cup plain non fat yogurt
2/3 cups sugar
3 extra-large eggs
Zest of about 1 ½ oranges
1/2 teaspoon pure vanilla extract
1/2 cup light olive oil
Preheat the oven to 350 degrees F. Grease and flour pan and line the bottom with parchment paper.
Sift together the flours, baking powder, and salt into 1 bowl. In another bowl, whisk together the yogurt, 1 cup sugar, the eggs, orange zest, and vanilla. Slowly whisk the dry ingredients into the wet ingredients. With a rubber spatula, fold the vegetable oil and poppy seeds into the batter, making sure it's all incorporated. Pour the batter into the prepared pan and bake for about 50 minutes, or until a cake tester placed in the center of the loaf comes out clean.
For the Orange Cream whip together: 1 cup of heavy cream, 2 tbsp of confectioner's sugar, 1 tsp vanilla extract or vanilla bean seeds, and the zest of half an orange