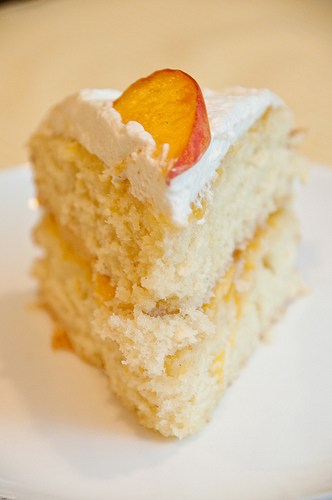 When I was growing up, my mom would make us peach cakes with whipped cream for our birthdays.  They were my favorite cakes (that weren't made out of ice cream).  My brothers and I would wait patiently to lick the beaters from the whipped cream and steal slices of when she wasn't looking.  I think that was always the best part.  I recently made this cake for J's birthday.  I had some really great fresh peaches to use…and I had some that were just okay.  I decided to chopped up the sub par peaches and heat them with a bit of sugar, water and peach schnapps.  I used the puree between the layers of the cake and on top under the whipped cream.  It really bumped up the peach flavor, and was pretty good on its own.  This yellow cake is sturdy enough to not get mushy with the peach puree and fresh peach slices.  I covered this cake with a thin layer of whipped cream.  I really liked how you can see the outlines of each layer.  I only had a few minutes to chill this cake before we served it, but it held together really nicely.
Happy Birthday J!
Ingredients
Two 9 inch Basic Yellow Cakes
1 cup heavy cream
3 tbsp confectioners sugar
1 tsp vanilla extract
6 peaches
2 tbsp water
2 tbsp sugar
2 tbsp peach schnapps
Chop three of the peaches and combine with water and sugar over low heat.  Bring to a simmer and blend until smooth with an immersion blender, stir in the schnapps and allow to cool slightly.  Slice the very top off each cake leaving an even and flat layer.  Spoon a generous amount of the mixture over each cake.  The peach puree will soak into the cake.  Slice the remaining three peaches and place a layer on top of one of the cakes.  Put the other layer on top and chill while the whipped cream is prepared.  Whip the cream, confectioners sugar and vanilla.  Top the cake with an even layer and use reserved peaches for the top of the cake.  Keep the cake in the refrigerated prior to serving.