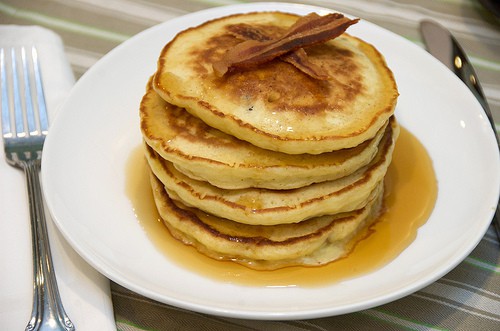 I was looking around the kitchen tonight trying to decide what to put in our 'breakfast for dinner' pancakes. I almost went the apple route but I have been putting apples in just about everything lately. I almost always keep bacon in the freezer, and crispy bacon sounded like the perfect thing. These were pretty wonderful with just the right balance of sweet and salty. I served these with some warm dark amber maple syrup and a bit of butter.
1 cup flour
1 ¼ tsp baking powder
¼ tsp salt
1 egg
1 tbsp honey
1 tbsp ricotta cheese or plain yogurt
1 tsp vanilla
2 tbsp crumpled crispy bacon
Sift the flour and baking powder together. In a separate bowl combine the wet ingredients and stir into the dry. Fold the bacon into the mixture and allow it to stand for about five minutes. Cook over medium low heat on a buttered griddle.