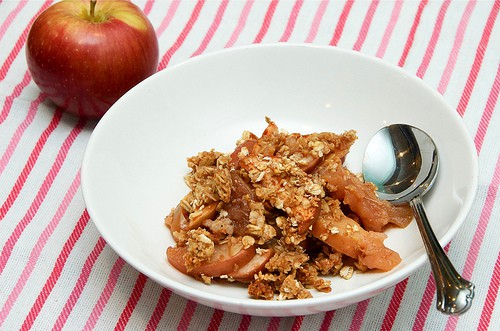 Yes, another apple recipe! Apples are to fall what zucchini was to summer…readily available, fairly inexpensive and good in just about everything! This version of apple crisp is not too sweet and doesn't need to be saved for dessert. It makes a really good breakfast or an afternoon snack. I used Spartan apples in this because they are naturally sweet and hold up well. Spartans are apparently the first apples produced as from a formal breeding program. I like them because they are equally good for eating and baking.
Apple Crisp
6 apples sliced
1 tbsp sugar
1 tsp tapioca
½ tsp cinnamon
¼ nutmeg
Pinch of allspice
1 tsp vanilla
2 tbsp lemon juice
For the topping:
1 cup rolled oats
¼ white whole wheat flour
½ tsp cinnamon
2 tbsp butter
1 tbsp honey
Toss the sliced apples in the spices, tapioca, and lemon juice. Press the apples gently into a baking dish. Combine the dry ingredients for the topping. Using your hands, crumble in the butter and honey until well dispersed. Bake for about 45 minutes at 350 until the juice from the apples begins to run. Allow to stand for about 5 minutes prior to serving for the juices to thicken.
You could serve this with ice cream or whipped cream for dessert.