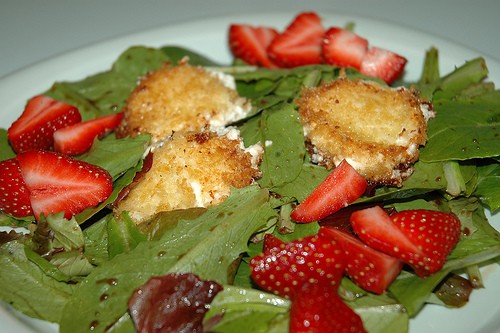 I felt like I just had to cook something for dinner for Valentines Day. I had seen Ina Garten on the Barefoot Contessa make a salad with warn goat cheese, and I had been meaning to try it. I didn't use her salad recipe because I love to pair fresh goat cheese with strawberries and balsamic vinegar. It was really delicious, and I made just made it again for dinner.
1 log of goat cheese
1 egg white with a splash of water
½ cup Japanese Panko Bread crumbs (they are crunchier and flakier)
Slice the goat cheese into ½ rounds, dip in the egg and water, press into the panko. Chill the rounds for a few minutes.Heat olive oil and 1 tbs of butter over medium high heat. Cook the goat cheese until each side is lightly brown.For the salad I used a field green mix and tossed it in olive oil and balsamic vinegar. Add the strawberries, goat cheese and finish with a pinch of salt and fresh ground pepper.