I have made many different kinds of blueberry muffins, but I think that this recipe is my new favorite.  Muffins, particularly whole grain muffins, have a tendency to disappoint.  The buttermilk really adds a lot to the flavor and texture.  They rose higher than expected and were delicate and light.  From what I understand, the acid in the buttermilk gives the baking power an extra boost.  I used frozen blueberries in these.  I usually buy organic frozen fruit, but lately I has been buying  a conventional brand for muffins.  The fruit is perfectly shaped (I'm guessing from being flash frozen) and surprisingly good. (Edit: If you have a Hannaford, their frozen organic blueberries are awesome. If the fruit isn't frozen individually, the muffins will turn blue.)
I served these on this really cute cake stand.  Apparently, my mom got it at her bridal shower in the late seventies.  I don't imagine  it was ever her taste.  I hadn't seen it until we did a final cleaning of my parent's house after it sold.  It was like finding a little gem, and I immediately put it in my 'keep pile'.  The plate has these really cheerful spring bright spring flowers on it.  I just love it.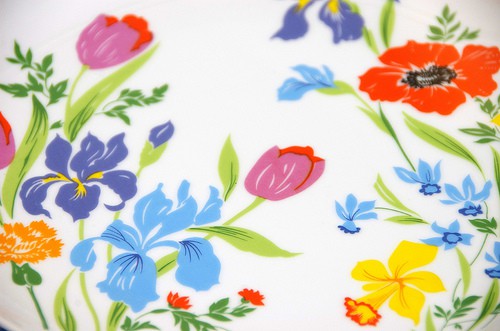 Buttermilk Blueberry Muffins
from the Joy of Baking with my notes in parentheses
2 1/2 cups (350 grams) all-purpose flour (I used 2 cups white whole wheat and 1/2 AP)
3/4 cup (150 grams) granulated white sugar
2 tsp baking powder
1/4 tsp baking soda
1/4 tsp salt
(I added 1/4 tsp of cinnamon)
Zest of one orange (I used zest of 1/2 a lemon)
1 large egg, lightly beaten
3/4 cup (180 ml) buttermilk (I used 1 cup for extra moisture with the whole wheat flour)
2/3 cup (160 ml) safflower or canola oil (I used a light olive)
1 tsp vanilla extract
2 cups of blueberries (do not thaw if frozen)
Preheat the oven to 375. Mix the wet ingredients together, including the zest. Sift the dry ingredients together and stir in the sugar. Mix the wet and dry together and carefully fold in the blueberries. Bake until a cake tester comes out clean, about 20 minutes. This will make 12 muffins.