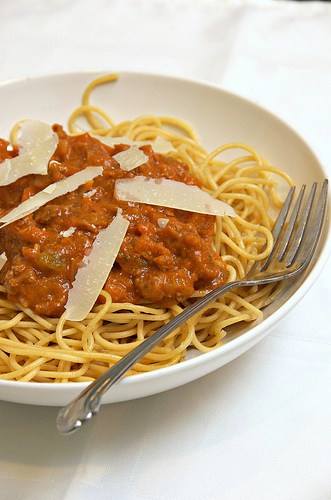 Today was pretty much the ideal early spring day. It is hard to believe that I made this sauce when we were completely snowed in less than a week ago. I wanted to make something that could simmer on the stove for a few hours while we both worked from home. I love feeling of being snowed in and knowing that things are moving more slowly outside, if only for a day.
I had most of the ingredients, with a few changes, for a somewhat traditional Bolognese sauce. I used bison meat because I always have some in the freezer and whole grain pasta. Mario Batali's recipe served as an inspiration. I wasn't originally going to add bacon to this, but I only had about a tablespoon of olive oil and needed more fat. In the end, I really loved the subtle smokiness that the bacon added. This was a really great hearty sauce. Perfect for what may be the last wintery for day for awhile.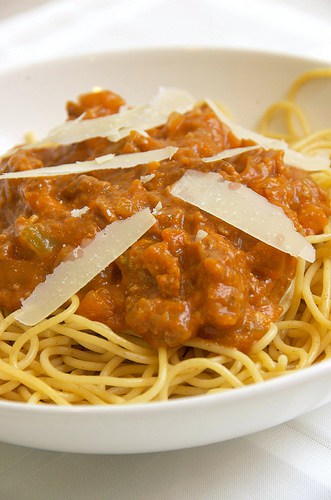 Spaghetti with Bison Bolognese
Inspired by Mario Batali's Spaghetti Bolognese
Ingredients
1 tbsp olive oil
2 onions, chopped
2 chopped carrots
4 celery stalks, chopped
4 slices of bacon. finely chopped
1 pound ground bison meat
5 cloves garlic, chopped
1 tsp oregano
Pinch of red pepper flakes
1/2 tsp ground black pepper
1 tsp salt
1 28oz can pureed tomatoes
½ cup water
1 cup lowfat milk
Heat the olive oil and add the onion, carrots and celery. Cook for about five minutes and add the bacon. Cook until most of the bacon fat has rendered out of the meat. Add the bison meat. When the meat is almost completely cooked through add the garlic and cook for about a minute more. Add oregano, red pepper, salt and black pepper and can on tomatoes. Stir to combine and add additional ½ cup of water and cup of milk. Simmer covered on low for at least 2 hours.
I am just under the wire in sending this dish over to the Second Annual Festa Italiana hosted by of the Marie of Proud Italian Cook and Mary Ann of Finding La Dolce Vida.  They have already posted some amazing Italian dishes that you can check out here and here!