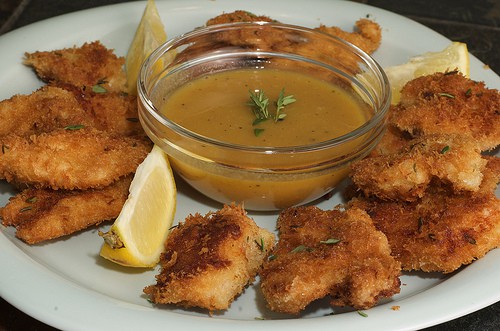 I made these awhile ago when J's brother was over for a visit. I have lots of fresh thyme growing right now, and this proved to be a good way to use quite a bit of it. Although I am not a huge fan of chicken, I have no complaints when it is cut into nuggets and crispy.
To make these I cut 4 small boneless skinless chicken breasts into nugget size pieces. For the breading I used about 3/4 of panko mixed with 2 tablespoons of fresh thyme (I would probably use even more next time), 1 tablespoon of lemon zest, 1/2 teaspoon of salt and 1/4 ground pepper.
Dredge chicken in flour, then egg wash, then press it into panko mixture.
Shallow fry in olive oil until it is golden brown on both sides.
We ate this with some lemon honey mustard. I just mixed dijon mustard, honey, lemon juice, pepper and thyme until it tasted right.