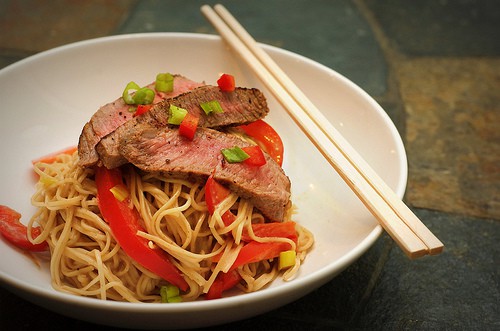 I LOVE peanut butter noodles. This is so easy to make and really filling. It is perfect for a weeknight dinner. This is particularly good with some sliced steak on top. I was so proud of myself for not overcooking it! The egg noodles come in packs of four. This recipe is for 1/4 of a package of noodles.
Simmer about 2 cups of chicken stock over medium heat and add Chinese egg noodles
Stir in 1 heaping tablespoon of peanut butter (I use natural, unsweetened)
Add 1 tablespoon oyster sauce or honey
Add few splashes of soy sauce
Add a few splashes of sesame oil
Add sliced peppers (I keep these in the freezer for this purpose)
Pinch of red pepper flakes
Note: you may need to add extra chicken stock as this cooks to prevent it from getting too sticky and to help the peanut butter melt.
At the last minute add chopped scallions
It is so good. I could (and sometimes do) eat bowls and bowls of it.