This pie is a really nice combination between a fruit tart and a traditional pie.  When I saw the photo of this on Chemist in the Kitchen, I knew I had to make it for the Fourth of July.  Part of the fruit is cooked down, and mixed with the fresh blueberries giving this a great texture.  My husband is a berry pie aficionado and often complains that most blueberry pie are too sweet.  Keeping most of the berries whole allowed them to keep some of their natural tartness.  This was a great recipe, and would be perfect for any summer weekend, especially served with vanilla ice cream.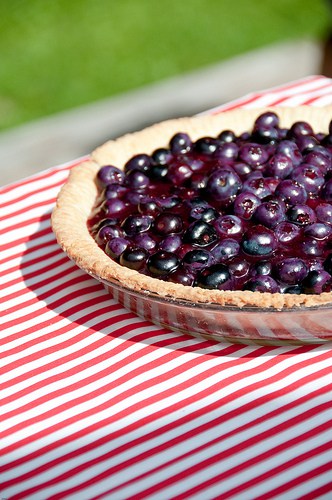 Open-Faced Blueberry Pie
Adapted from Chemist in the Kitchen and Epicurious
1 9 inch pie crust, I used a basic pate brisee
1 tbsp egg white
4 1/2 cups blueberries
1/2 cup water and two tablespoons water, divided
2 tbsp cornstarch
1/2 cup sugar
1/2 tsp lemon zest
2 tbsp freshly squeezed lemon juice
Preheat the oven to 425 degrees and roll out the pie crust. Shape to fit pie plate and chill for 5 minutes before baking. Bake for 20 minutes lined with foil and filled with pie weights or dried beans. Remove the foil and poke wholes in the bottom with a form. Bake additional 5-10 minutes until golden. When slightly cooled brush the bottom with egg white.
For the filling: boil 1 cup of the blueberries and 1/2 cup of water until the blueberries burst. Add the lemon zest, sugar and simmer. Dissolve the cornstarch in water and stir in along with the lemon juice. Return to a simmer.  Remove from the heat and fold in the additional 3 1/2 cups of blueberries coating them in the mixture. Pour into the pie crust and allow to set for a few hours before serving.