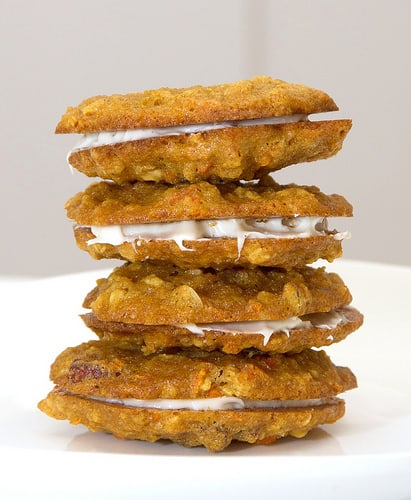 Carrot cake with cream cheese frosting is definitely one of my favorite desserts of all time.  These cookies are a great variation on the classic.  The texture had a really pleasant chewiness, and they were still pretty cake-like despite being a bit flat.  I had high hopes for these, and they didn't disappoint.  I made my cookies a little smaller than the 1/2 ounce suggested in the original Martha Stewart recipe and put a little over a teaspoon of cream cheese frosting between each cookie.  I think that bite sized mini versions of this cookie would also work well.
Carrot Cake Cookies
Adapted from this Martha Stewart Recipe
Ingredients
1/2 cup packed light-brown sugar
¼ cup granulated sugar
1 stick unsalted butter, room temperature
1 large egg, room temperature
1 teaspoon pure vanilla extract
1 cup all-purpose flour
½ tsp baking soda
½ tsp baking powder
1/4 tsp salt
1 tsp ground cinnamon
1/2 tsp ground nutmeg
1/2 tsp ground ginger
1 cup old-fashioned rolled oats
¾ cup finely grated carrots
1/3 cup cranberries
Preheat oven to 350 degrees. Line two baking sheets with Silpat baking mats or parchment paper, and set aside. In the bowl of an electric mixer fitted with the paddle attachment, combine sugars and butter; beat until light and fluffy, Add eggs and vanilla, and beat on medium speed until well combined.
In a large bowl, sift together flour, baking soda, baking powder, salt, cinnamon, nutmeg, and ginger. Gradually add flour to butter mixture; mix on a low speed until just blended. Mix in oats, carrots, and cranberries. Chill dough in refrigerator until firm, at least 1 hour.
Using a 2 teaspoon  scoop, scoop dough onto prepared baking sheets, leaving 2 inches between cookies. Transfer to oven, and bake until browned and crisped, rotating pan halfway through baking to ensure even color, 12 to 15 minutes. Transfer to a wire rack to cool. Repeat baking process with remaining dough. Once completely cooled, sandwich with desired amount of frosting. This makes about 15 sandwiches.
Cream Cheese Frosting
8 oz. softened cream cheese
1/2 stick unsalted butter
1 cup confectioners sugar
2 tsp vanilla
pinch of salt