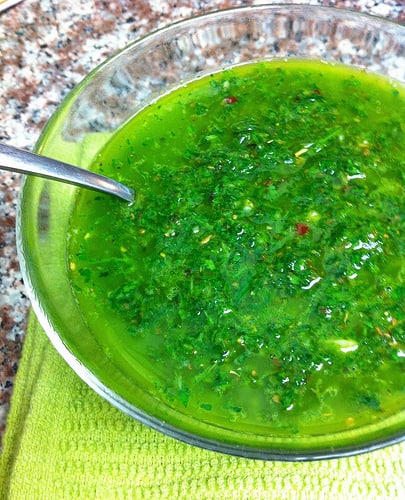 I have had chimichurri that is far too vinegary or garlicy, but I think this version strikes a nice balance. For me, it is all about adding some lemon to brighten the flavors and using a mellower vinegar that doesn't overpower the herbs. Chimichurri is traditionally served in Argentina with steak. I actually used the leftovers as a dressing for greens, tomatoes and beans. It pairs well with any protein, and I have even seen it mixed with pasta. It's really easy to make and worth having extra to pull together quick weeknight dinners.
Chimichurri
Adapted from Simply Recipes and Kalyn's Kitchen
1 cup of flat leaf parsley, chopped with the stems removed
1/2 cup olive oil
2 tbsp vinegar (I used white balsamic vinegar)
4 cloves of garlic
2 tsp dried oregano
1/2 lemon zested and juiced
1/4 tsp black pepper
1/4 tsp red pepper flakes
1 tsp salt
I prefer this to be a fairly smooth texture, and pulsed the ingredients in food processor until well combined.