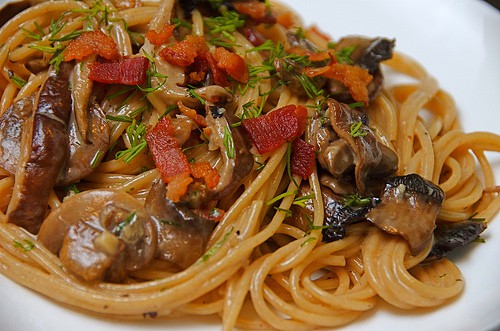 My mushroom obsession has been well established here. I put them on pizzas and in soup, lasagnas, you name it. I love this pasta dish because the flavors of the mushrooms are really enhanced by the other flavors. The shitakes cooked in the bacon fat were amazing. Of course anything cooked in bacon fat is amazing, but this really brought out the woodsy smokiness of the mushrooms. The crisp bacon also adds a nice crunch to the texture of the pasta. The mushroom mixture would also be really good over simple roast chicken breasts. You could pair other mushrooms with this but the shitakes are essential for their flavor, and the stems are used to make the broth. They are very woody, and it pains me to waste them. So, I decided it was time to incorporate them in a recipe. I thought they added another layer of mushroom flavor to the sauce.
4 slices of bacon
2 tbsp olive oil
3.5 oz. shitake mushrooms sliced, reserve the stems
8 oz. cremini mushrooms
2 Portobello mushroom caps, sliced into bite sized pieces
1 garlic clove finely minced
3 tbsp good quality sherry
1 bay leaf
2 cups of water
3 tbsp crème fraiche
2 tbsp chopped fresh dill
Salt and pepper
¾ pound of spaghetti
Cook the bacon in a large pot or saucepan over medium high heat until crisp, drain on paper towel. Add additional olive oil (the exact amount needed will vary depending on the fattiness of the bacon, the bottom of the pan should be covered), add the mushrooms. Allow the mushrooms time to brown on each side and add salt and pepper.
In a small separate pot bring water, shitake mushroom stems and a bay leaf to a boil. Allow to reduce until you have about a ½ cup of liquid. Strain and reserve. In another large pot, bring pasta water to a boil and cook until al dente.
Add the chopped garlic to the mushrooms and cook for a minute. Add the sherry and reserved mushroom broth. Allow to reduce slightly and add the crème fraiche and taste for salt and pepper. I found I really needed to add a lot of pepper, about ½ tsp and 3/4 tsp of salt. Remove from the heat and add the drained spaghetti to the pot and chopped fresh dill and reserved bacon. Use tongs to combine. Serve immediately with additional chopped dill and bacon if desired.